[En Español]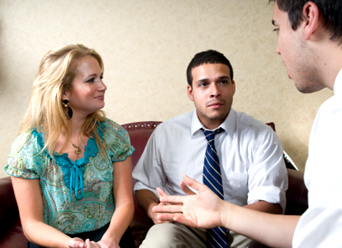 Many people seek counseling because they are having major stresses and may be in crisis due to relationship issues, job loss, parenting, sexual orientation, depression, substance use, or other problems. It takes courage to confront these issues and develop new coping strategies while struggling to maintain jobs and relationships.
Our licensed therapists and interns can help you as an individual, as a couple, or if your family needs help. Our Counseling Services program will respect your choice and can pair you with a therapist that accommodates your needs.
While we strive to keep our services affordable and low cost, you will be asked to pay a portion of the fees. Your share of the fee will be based on a sliding scale related to your monthly income. We also accept MediCal.
All of our counselors are trained to serve those in the LGBTIQ community or those questioning their sexual orientation.
If you are a professional interested in participating in our internship program please click here.
We serve people throughout Santa Cruz County. Please contact one of our offices to ask for more information or to schedule an appointment.
In Santa Cruz please contact us at:
104 Walnut Avenue #208
Santa Cruz, CA 95060
phone: 831-423-9444 x200
In Soquel/Aptos please contact us at:
2901 Park Avenue, Suite A3
Soquel, CA 95073
phone: 831-346-6767
fax: 831-346-6771